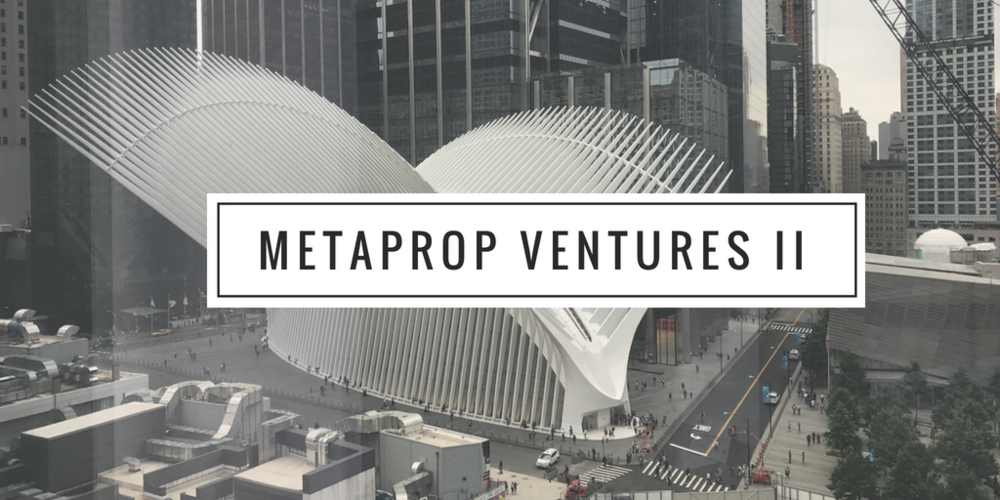 Since inception, MetaProp has been dedicated to one thing: connecting talented PropTech founders with the knowledge, network and resources that they need to grow their businesses and meaningfully impact the real estate industry.
Four years ago, my partners, Aaron, Zach and Clelia---themselves investors, entrepreneurs and practitioners at the intersection of real estate and technology--saw the need for a firm dedicated to bridging the gap between emerging PropTech startups, their real estate customer base, and the broader venture capital community. Since then, MetaProp has continued to drive the PropTech market forward, evolving and iterating around that central mission in what has become a rapidly changing market.
Last week, we had the pleasure of sharing the next milestone in MetaProp's evolution with the announcement of our second venture capital fund, MetaProp Ventures II.
There is perhaps no better representation of just how far the real estate industry's interest in innovation has come in a short time than the truly fabulous group of blue chip firms from across the real estate industry who are joining us for this journey. Fund II's LP base represent the largest consortium of early adopter and enthusiast investors in the real estate industry, including asset managers, top tier private equity firms, all of the largest global brokerages, international and U.S. owner/developers, world class construction and engineering firms, maintenance services firms, and more. Among the much longer list of notable Fund II LPs are RXR, PGIM Real Estate, Cushman & Wakefield, CBRE, JLL Spark, Mitsui Fudosan's 31VENTURES, and Altus Group. More than marking an affirmation of MetaProp's mission to identify and support the next generation of elite PropTech startups, their partnership will be an industry best asset in helping us fulfill it.
True to MetaProp's DNA, Fund II is purpose built for the needs of today's early-stage PropTech market. Below is a brief overview of what you can expect from our investment approach as we continue to deploy Fund II.
Early-stage focus: With our second fund, MetaProp continues and expands on our firm's successful history by focusing exclusively on early stage (generally pre-seed through Series A) PropTech startups. Our unique position in the market enables us to identify emerging PropTech opportunities and invest with conviction early in a company's maturity.
Full PropTech investment scope: We invest in next generation innovations using software, hardware and technology enabled services to improve and/or rethink every aspect of the global real estate market. This includes companies that impact every asset type within real estate and every function or task that a real estate professional performs during the lifecycle of a real estate asset--from dirt to disposition.
Access to customers: All told, Fund II's LP base offers PropTech startups a pilot- and test-ready "sandbox" that spans more than 15-billion-square-feet across every asset type and global market. Combined with our additional reach through the RE200 Mentor Network, and MetaProp's advisory, events and media platform, MetaProp provides unparalleled industry access and exposure for our early stage PropTech portfolio companies.
Access to capital: Our team has closed more than 90 PropTech investments with a broad coalition of strategic and venture investors from around the world. Our peers in the investment community know us as a partner who can help with market de-risking pre-investment, and early distribution, product refinement, and top real estate talent post-investment. It's a value prop that has resonated strongly with founders and investors to date and one that we are proud to carry forward into Fund II.
While we are sharing the Fund II announcement today, we have already made the first 10 Fund II portfolio investments. Early Fund II portfolio names include: Workframe, WhyHotel, Irene, Locate.ai, Jones, Travtus, Doorport, Hoozip and OnSiteIQ. Reflective of our investment scope, these investments represent a broad cross-section of the PropTech market--from frontier areas like AI-powered property management or retail site selection, to the improvement of friction-filled real estate processes like office construction management, to new models to better utilize and monetize space. We expect to add roughly 25 additional names to the Fund II portfolio and are inspired but the diversity, sophistication and ambition that we see amongst the next generation of PropTech startups.
We would like to take this opportunity to thank Fund II's investors who have placed their trust in us, along with you and the entire MetaProp community for your continued support. Since the outset, MetaProp has been dedicated to bringing together the strongest community possible to help the next generation of PropTech startups grow. We are excited to carry that mission forward with Fund II.