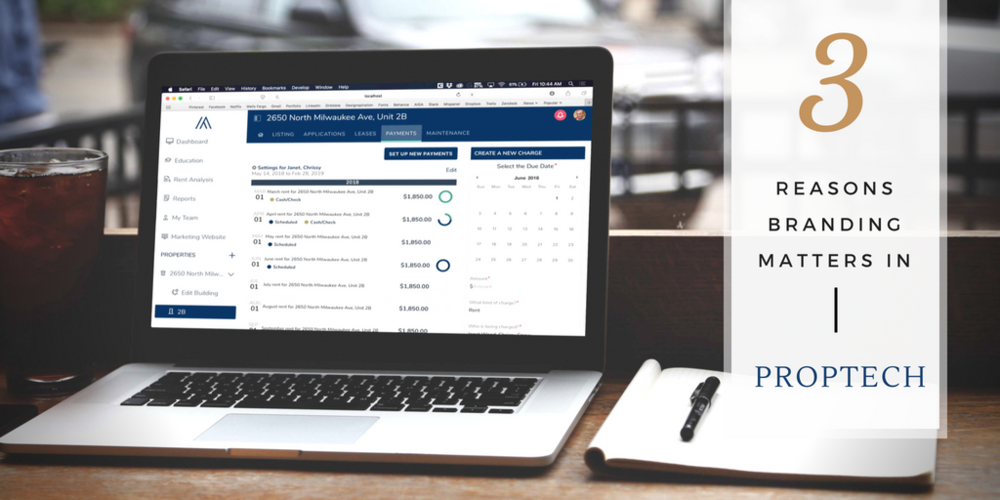 Coca-Cola. Mercedes. Nike.
Each word brings to mind a specific product or lifestyle. Each brand appeals to a demographic, and that appeal doesn't happen by accident.
From their recognizable logos to their consistent products, each company has created a unique brand. Branding goes beyond just consumer goods, though. It also applies to the consumer experience.
When it comes to PropTech, branding is essential. The right branding can convey in an instant whether your brand is approachable, consistent, and user-friendly. From your logo to your tagline, every aspect of your brand sends a message to potential customers, so it's important to make sure it's the right one.
With that in mind, here are 3 reasons why branding matters in PropTech:
1. Branding Aligns Your Internal Team
When you think of branding, you probably think of customer-facing assets like logos, colors, and taglines. That's just one aspect of branding, though.
The most important aspect of your brand? Your people. Both your internal team and your customers are the most important builders, ambassadors, and followers of your brand.
Branding ensures your team is moving in the same direction. For this to work, though, you need your team to buy into your brand.
If your team is aligned with and enthusiastic about your brand, they'll provide your customers with outstanding service and support. This leads to a business' most important asset: repeat customers.
To create and communicate a consistent internal brand, there are a few steps PropTech companies should consider:
DEFINE WHAT YOU STAND FOR
An important aspect of your brand is the consistent experience people have surrounding your brand, which often comes down to how people are treated at every touchpoint. For example, you should consider:
How your team interacts with your customers
How your customers interact with your team
How your customers interact with each other
How your team interacts with each other
At Avail, we've written House Rules as a playful way to display our code of conduct. It also shows our customers that we're a friendly, every-person brand. The House Rules are:
Be positive
Be honest
Be impactful
Be professional
Be understanding
Our team follows these standards, and also, our landlords and tenants know what to expect from their interactions with Avail and with each other.
"From the start of our first accelerator cohort, of which the then Rentalutions was a part, we at MetaProp knew that its founders had a brilliant idea, along with the drive and focus to build their PropTech startup. At the same time, we knew the company's name was not ideal. However, we all recognized that it was not the time to focus on that aspect of the business. Clients were being garnered and had to be serviced with excellence. When the time was right, the founders pivoted toward a branding focus and successfully re-branded the company as Avail. That's smart startup strategy!"

-- Aaron Block, Co-Founder & Managing Director, MetaProp
GET FEEDBACK FROM YOUR EMPLOYEES
People tend to be resistant to change that feels imposed on them. Getting feedback from your internal team gives them the opportunity to shape your brand. If they help shape the brand, they're that much more likely to support it and communicate that enthusiasm to  customers.
Open discussions with your team can also provide you with valuable feedback about your brand and how to improve it.
COMMUNICATE YOUR NEW BRAND
Once you've created your brand, it needs to be communicated to your customers in the best way. On our team, we often say "communicate early and communicate often." This is especially true with your brand. If you're like us, and you're going through a rebrand, you'll want to communicate ahead of time, so that customers are not alarmed by the change. We told our customers about our rebrand 3 weeks before the launch. And then, as we got closer to launch date, we sent more emails letting them know that the changes were coming soon.
Once you've updated your logo, name, and any other changes on your site, you'll want to send a final email to your customers letting them know that the change is complete. We sent out a blog post on why Rentalutions rebranded to Avail to address common questions and concerns ahead of time.
"Effective branding is consistency meets creativity. Understanding your target market and nurturing the relationships from the very beginning will pay off handsomely in the long run. People are busy and have short attention spans. You have less than 5 seconds to catch their attention or they'll swipe left to the next interesting thing."

- Deedee Chong, Director of Marketing, MetaProp
Another great idea is to host a brand launch party. It's a fun way to bring your team together and get them excited about your company's future.
Plus, with your internal team united and focused, they will be more likely to provide your customers with a high level of support that aligns with your brand.
2. Branding Increases Customer Satisfaction and Engagement
As you develop your brand, the first step should be having a clear sense of who your customers are and what they need. This will help you develop an emotional connection with your customers through your brand. Similarly, when your brand is well-executed, your customers get a consistent experience. Through that connection and consistency, you'll increase satisfaction and engagement.
UNDERSTANDING YOUR TARGET MARKET
Having a clear target market can help you develop a branding strategy that speaks to them. For us, our target market is landlords and tenants. It's important to drill down further, though. At Avail, we focus on part-time landlords who may only own a few properties. It's a clear niche with a need for tech solutions that streamline the rental process.
Once you know your demographic, you can create a brand that speaks to them. A clean, simple website communicates that you will make life easier for your property owners. An appealing logo can make your brand recognizable and communicate that you will be there to support them.
CREATING A CONSISTENT EXPERIENCE
If there's a disconnect between what your brand promises and what is actually delivered, it can lead to dissatisfied customers. On the flip side, if your brand promises a quality service and customers receive the level of quality they expect, they're more likely to become repeat customers.
Those repeat customers are critical to the success of your business. Multiple studies show that it is almost six times harder to bring in new customers than to retain current ones. A consistent brand experience can build customer loyalty.
BUILDING A RELATIONSHIP
Your brand is about more than just how your PropTech company looks. It's about how you relate to your customers. Taglines and logos set the tone, but ultimately, it's about how you engage with your customer and build on that first impression.
Fast-food chain Wendy's Twitter feed is a powerful example of building on a brand. They know who they are and have a clear voice. They promote their brand's value to customers, engage them through retweets, and consistently respond to complaints.
As you build and promote your brand, it's important to keep a close eye on customer satisfaction and engagement. Customer satisfaction surveys can show you how their experience aligns with their expectations. Being present and active on your support channels and social media gives your brand exposure and gives you the chance to interact with your customers, engaging them, and increasing their sense of loyalty.
Your brand promises a relationship, and that relationship is critical to your success.
3. Branding Increases Referrals
A PropTech company's branding sets customer expectations. When those expectations are met or exceeded, customers are going to be loyal to your brand. With the right branding, your customers may go beyond just being loyal. They may be proud customers who share their experience with others, which leads to referrals and more business.
Referrals should be an essential part of your marketing plan. One of the simplest ways to achieve this is by providing your customers with valuable information and making that information shareable. A PropTech company might post educational articles to their blog and promote their posts via social media. Customers can easily click and share those posts with other potential customers, increasing your brand recognition and bringing in new customers.
You can also implement a more formal referral program that aligns with your brand. You could offer a discount on your services for referrals, or use your email list to encourage customers to refer their friends.
As you develop your branding strategies, you should keep referrals in mind.
Your logo should be recognizable
Your content should be engaging and in-line with your brand messaging
Measure the level of customer engagement with your content, emails, and other marketing assets
Make adjustments to your marketing assets and referral program so they're more engaging and shareable
TELL A STORY
Ultimately, your brand should tell a story. For example, Avail was founded because, as rental property owners ourselves, we didn't have the technology available to us that we needed to streamline our rental process. We decided to create the technology and make it available to other property owners.
In telling this story, we're showing that we understand the problem, and we're providing a solution that we know works because it's worked for us and thousands of other landlords like us.
AUTHENTICITY MATTERS
Customers are also drawn to an authentic voice. Wendy's twitter feed is appealing because it feels like there is a real person behind it. As you develop posts and interact with your customers, your authenticity should come through. People are going to be more comfortable referring their friends to brands that care about their customers.
It's hard to understate how important your authenticity and branding is to getting referrals. A study by Ambassado shows that 82 percent of American consumers get recommendations from family and friends before they make a purchase, and 67 percent say they're more likely to purchase something a friend or family member shared on social media.
FINAL THOUGHTS
When it comes to PropTech, your branding makes a promise to your customers. It's up to you to live up to that promise. With branding, you can create a consistent message and voice that's carried out by everyone in your company. This consistent, high-quality experience will create loyal customers who speak highly of your brand.
WHAT IS AVAIL
Until now, landlords with less than 10 units haven't had access to online tools designed specifically for them. Avail is an intuitive app that helps you advertise vacant units, request rental applications and credit reports, sign an online rental agreement, and collect rent — all online. Today, 80,000 landlords use Avail because it's the only end-to-end platform that helps them scale from beginner to professional with tools, support, and education.
By: Ryan Coon, Co-founder ofAvail