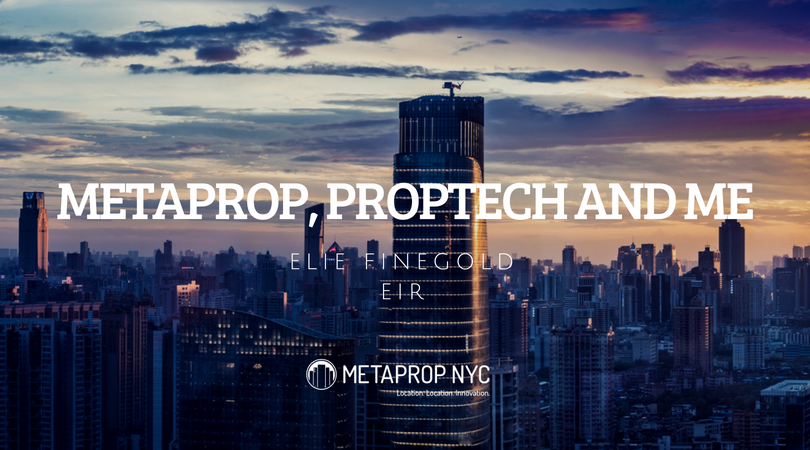 Hello, MetaProp Community!
As you may know, a couple weeks ago I joined MetaProp as an Entrepreneur In Residence (EIR).  I've been involved in real estate and technology for years and, while I will spare you a full recitation of my biography in this post, I've had an interesting run touching many areas at the intersection of real estate and technology.  I've started tech companies.  I've started real estate companies.  I've led the development of physical projects around the world, overseen deployment of billions of dollars in assets and companies, managed thousands of employees, and built lasting brands. And I've had the rare (and I think unique!) privilege of leading innovation strategy at not one, but two, market-leading publicly traded global real estate companies.  
In all of those positions, I have had a passion for helping build companies, especially young companies – whether they are my own creations, companies with which I've invested or partnered, or the countless companies to whom I've provided counsel, guidance, and occasional tough love over the years.  Ask around, and you'll find that at one point or another, usually in their early days, I worked with and advised a great many of the companies that are leading the current wave of real estate tech.  So, with the next waves of innovation forming, I can't imagine a better place than MetaProp to apply my energies right now.
Entrepreneur In Residence is a pretty amorphous term, giving me and my partners at MetaProp wide latitude in choosing where to direct my efforts.  To clear up some common misconceptions, let me tell you a couple things it's not.  It's not a full-time job, or even technically a job at all – I won't be offended if you think of it as Gainfully Unemployed.  It doesn't mean I'm moving back to NYC full time, at least not yet, but I will be traveling from my home in Dallas more often.  And it doesn't mean that I will necessarily launch a new company out of this engagement – but don't count it out either.
What my EIR position IS, however, is a structured relationship with a MetaProp team and ecosystem that is at the leading edge of the next wave of PropTech, that has a sterling network of industry and financial partners, and an incredible pipeline into and perspective on early stage companies.  In addition to their position at the wide end of the funnel of companies, I chose to work with MetaProp because we share common core values: listen to and be respectful of one another; understand that good ideas can come from anywhere; value, respect and nurture relationships with strategic partners and investors; put founders first, and do everything we can to help young companies define their vision, improve their execution, and begin to scale their business.  All of those things are core to the MetaProp team and culture and resonate deeply with me.  It's simple really - just do the right things, with the right people, the right way.  Easy peasy!
During my time as EIR, I will be working across each of the three primary arms of MetaProp.  In the venture capital arm, I will assist the capable team in sourcing, evaluating and underwriting new deals, building investor syndicates and strategic relationships, and helping portfolio firms grow.  In the accelerator programs I will be helping young companies hone their business models and pitches, and strategize about how to go to market.   And I will be assisting the advisory and events team with strategy, promoting the MetaProp brand, and contributing content to events and thought leadership pieces.
I will also be using my time at MetaProp to develop some ideas of my own, try to listen and learn as much as possible, and continue to advise and support the portfolio of companies and projects with whom I'm already working.  I have a number of fascinating projects in-flight and as much as I'm supporting the MetaProp platform, that platform is supporting my endeavors.  It's a win-win-win, for me, MetaProp, and our collective ecosystem of companies and partners.
I believe that we are at an inflection point in the adoption of real estate and tech.  In all my years in the business I've never seen so much capital flowing to so many great ideas, or so many major industry participants so focused not only on innovation, but also on driving change throughout their businesses.  In addition, I'm fascinated by the many disruptive technological and sociological factors that are changing the very fundamentals of how people utilize, value, operate and trade real estate.  One thing I've been thinking, writing and speaking about for years is the emergence of 'radical mobility' and declining structural costs of moving data, people, and stuff within and between urban environments. These forces are, in my mind, a fundamentally disruptive convergence – and one which will be both enabled and better understood by the incredible amounts of data and the new analytical tools that are coming to market.  It is an incredible tipping point in the history of our business, and I'm tremendously excited to be with MetaProp in the eye of the storm.
It also means that, for the foreseeable future, you unfortunate souls are going to be treated to semi-regular ramblings from me on this forum.  I expect to cover a number of topics here, including reflections on my diverse experiences building and helping growing companies, what the startup ecosystem looks like from the corporate perspective, occasional crazy anecdotes from some of my wild years in the business, attempts to share hard-earned lessons from my successes and failures, my observations on the present state of play and the various companies with which I'm working and, when the spirit strikes, my wild and (hopefully) semi-accurate prognostications about the future.  
More than anything, dear readers, I hope these posts will be a starting point to provoke a conversation with all of you.  In the words of David Bowie "Knowledge speaks, but Wisdom listens." I look forward to doing a little bit of speaking, and a whole lot of listening.
It's gonna be fun!
-=E