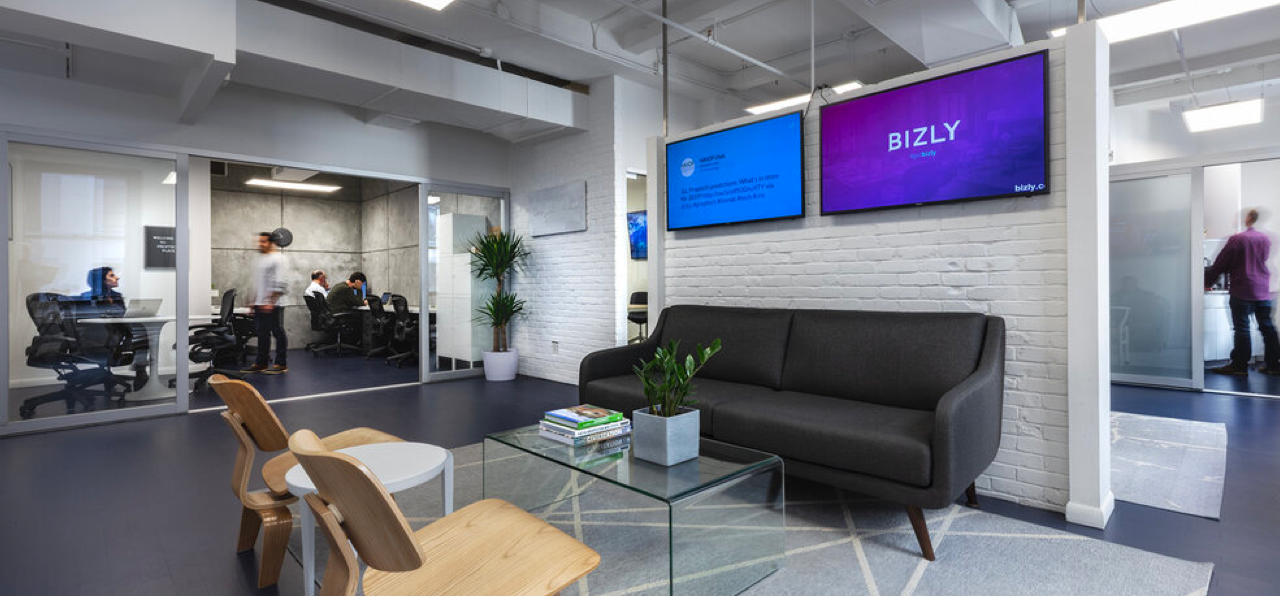 Yesterday's Class of 2015/2016 Demo Day was a hit.  We packed Silverstein Properties' 10th floor event space at 7 World Trade Center.  The vibe was great and 150+ attendees were really excited.  Mack Real Estate Group CEO Richard Mack gave the keynote speech on innovation, real estate and technology.  Most importantly, our startups had a chance to show off their technologies and their growth successes. 
Check out this great Demo Day summary from our media partner Travis at CRE.Tech.  We put together a short highlight reel; the full press release is below too.  
Congrats again to Notion, Rentalutions, Optii Solutions, SocialSign.in and Radiator Labs!
Special thanks again to our corporate partners NYC EDC, REBNY, ICSC, Zillow Group, Warburg Realty, Silicon Valley Bank, DLA Piper, EisnerAmper and The News Funnel.  Our NY Demo Day host partner Silverstein Properties was fabulous.  Also, big thanks to our RE200 Mentors, our esteemed SVB Guest Speaker Series instructors and our operations team.  Special mention goes out to some amazing MetaProp NYC friends too: Josh Mendelsohn, Rob Keve, Joe Speiser, Richard Mack, Maria Seredina, Jordan Nof, Ryan Baxter, Duke "The Godfather of CRE Tech" Long, Ryan Perfit, Jennifer Wojan, Shayna "Greatness" Lyandvert, Bobby Grandone, Sarah Malcolm, Eric Thomas, Michelle Savoie, Uzair Khalil, Verina Hanien, Cherie Perkell, Dmytro Pokhylko, Phil Russo, Val Hengemuhle, Robert Pimpsner and anyone else who has helped make the day (and the year) a success.
METAPROP NYC HOLDS DEMO DAY FOR FIRST CLASS OF ACCELERATED REAL ESTATE TECH STARTUPS
Five Select RETech Firms Announce Achievements and Innovative Ideas for the Real Estate Industry
NEW YORK - Jan. 26, 2016 -- MetaProp NYC, the world's premier real estate technology nexus, announced today that its five select startup companies have completed the 2015/2016 MetaProp NYC RETech Accelerator program. CEO's from the companies completing the first 22-week program of nonstop mentor meetings, new business introductions, education sessions and pitch practices today presented their achievements and innovative ideas at MetaProp NYC's initial Demo Day at Silverstein Properties' 7 World Trade Center in Lower Manhattan.

"The 2015/2016 MetaProp NYC Accelerator Demo Day was the most highly attended event we've had to date; tickets werecompletely sold out," said Aaron Block, co-founder, MetaProp NYC. "It was amazing to witness the outpouring of support from real estate executives, venture investors and the greater New York tech community."

The inaugural MetaProp NYC Accelerator program began in late August 2015 when five real estate technology ("RETech") startups from New York City and around the country arrived in Silicon Alley's Real Estate Tech Row (21st Street between 5th and 6th Avenues) to build and strengthen their businesses. Other entrepreneurs, investors and mentors from MetaProp NYC's mentor program (known as the "RE200") helped guide the startups through the intensive weekly program. Accelerator companies presented solutions that encompass hardware, software platforms and mobile applications affecting the ownership, development, leasing and use of office, retail, residential, hotel and other property types.

Mack Realty CEO Richard Mack delivered the keynote speech on real estate, innovation and technology to a packed house of more than 150 people.

"Access to the right distribution channels and strategic partnerships - part of MetaProp NYC's value prop - can dramatically accelerate a startup's growth. We are excited to see these startups' achievements continue after the Demo Day," said Maria Seredina, corporate development at Zillow Group, which is a founding corporate partner of the MetaProp NYC Accelerator program.

Since beginning the MetaProp NYC Accelerator in late August 2015, RETech startups have received commitments for more than $6.5 million in funding and have created more than 20 new jobs.

Presenting startups included Notion, Rentalutions, OPTii Solutions, SocialSign.In and Radiator Labs.