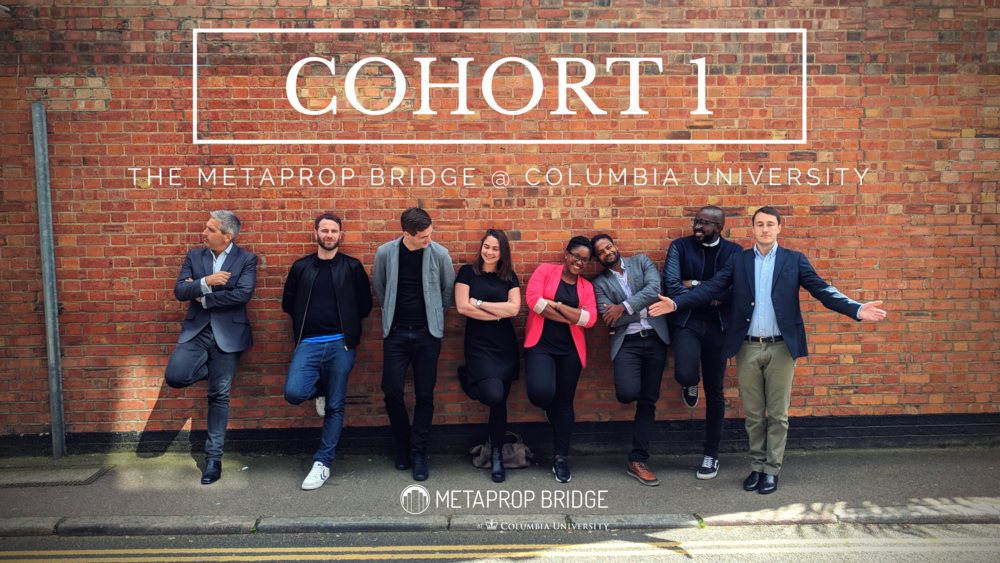 We are proud to announce the first cohort of the MetaProp Bridge at Columbia University. Our first ever cross-border program, the MetaProp Bridge, connects leading early-stage PropTech companies in EMEA to customers and capital in North America.
This was one of our most competitive application processes ever with over 100 applications and fewer than five spots. Our first open application process exclusively for EMEA companies, we learned a great deal about the EMEA market. As we expected, there are many great companies with very well developed technologies. At the same time, funding EMEA companies has different challenges from funding in North America because EMEA companies typically have much stronger boards and less autonomous executives. Furthermore, there is much less funding at the institutional seed stage.
Ultimately, we selected four EMEA PropTech companies.
The 2018 MetaProp Bridge at Columbia University cohort:
AIRLITE
Paint that transforms an ordinary wall into a
natural air purifier.
UK, Switzerland and Italy
720.IO
Cloud based analytics service that turns high quality environmental data into healthier facilities with happier tenants.
Finland
FRONTDOOR
Business intelligence for real estate agents
France
YOURWELCOME
Technology hub for short stay rental owners
UK
The companies were selected based on our analysis of their viability in the North American market. We looked at several factors including existing traction in EMEA: the founding team; the technology and tech team behind the product; the size of the problem, and the competition in the North American market.
Alain Kapatashungu,

CEO of Frontdoor
Alain Kapatashungu, CEO of Frontdoor, explained that he joined the Bridge program because "we cannot approach the American market as we approached the European market." The MetaProp Bridge is designed to support EMEA companies as they navigate the different real estate and venture capital landscape in the US.
Henry Bennett,

CEO of YourWelcome
Henry Bennett, CEO of YourWelcome explained that he joined the Bridge because, "YourWelcome is currently headquartered in the UK, but has more than 600 US companies as customers and 70 percent of growth is also in the US. YourWelcome will be opening a US sales office in Q3 and the program offers great access to a network of potential clients and investors."
We are already halfway through the London portion of the program. So far, we have matched the companies with mentors, invited several speakers to the program and are planning the North American go-to-market strategy. At the beginning of June, we will travel to NYC for intensive customer meetings and pitch preparation. The program culminates in July with an intensive five-city roadshow across North America.
Since landing in London, we have been lucky to have the support of the London tech and property community. Concrete VC, DLA Piper, KPMG, JLL, Cushman & Wakefield, Amro Real Estate Partners and many more have been invaluable friends as we set up shop in London. MetaProp is based out of one of our sponsor's beautiful coworking spaces, Fora, in Clerkenwell.