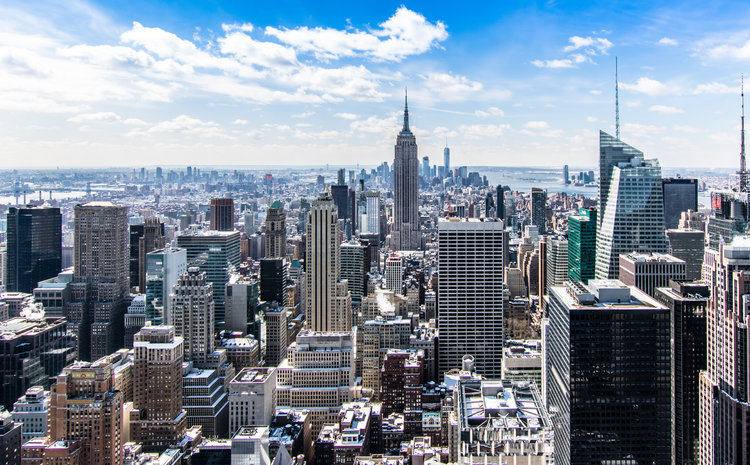 Undoubtedly, New York City is the world's best market for real estate, where total property value crossed the $1.0 TRILLION mark for the first time ever in 2017, according to the Department of Finance. Real Estate has been notoriously slow adopting new technology, lagging behind other major industries such as FinTech and HealthTech over the past two decades.
However, this lack of technology adoption actually represents an enormous opportunity in PropTech, especially in New York City. Startups are increasingly recognizing this special moment in time, and as the real estate capital of the world, New York City has become a breeding ground for new PropTech companies to operate. Don't believe us? Just ask BuiltWorlds, who recently dubbed New York City "the hottest place for tech in the built world." Just prior to BuiltWorlds' proclamation, MetaProp NYC was excited to have a few of the BuiltWorlds team members in our Flatiron, Manhattan office to talk all things PropTech!
Who calls NYC home?
In order to stay relevant in the ongoing real estate tech revolution, all the biggest PropTech companies have an established presence in New York City. WeWork, the sixth largest privately held startup now estimated to be worth more than $20 billion, calls NYC home. In addition, heavy hitters VTS, Compass, StreetEasy, Compstak and many more, have their headquarters in New York City. Other PropTech power houses such as Airbnb, Zillow, RedFin, and OpenDoor have offices in the Big Apple. Even tech behemoth Google has dipped its toes in PropTech's waters with urban innovation organization Sidewalk Labs, the headquarters of which is -- you guessed it -- in New York City.
Quite simply, if you're a booming PropTech company, a presence in NYC is essential.
Support at the government level
One major endorsement that New York City has working in its favor is the highly enthusiastic backing of the New York City Economic Development Corporation (NYCEDC), helping to further establish NYC as a most favorable place for technology companies. The NYCEDC's recognition and dedication to PropTech in NYC has given the city a competitive advantage in the rapidly growing PropTech world. Thanks to their efforts, New York City (specifically Silicon Alley) has become the second most dynamic ecosystem for tech, trailing only Silicon Valley. With steady cooperation and support at the government level, New York City is well equipped to retain its PropTech dominance.
Elite academic institutions
Another key factor in NYC's PropTech dominance  is the high concentration of universities with specialized programs in real estate and technology that make the city a magnet for entrepreneurs. In this regard, Columbia University's dedication to PropTech has been the gold standard. This year, the university's Center for Urban Real Estate (CURE) and MetaProp NYC teamed up to successfully create the world's first Pre-Accelerator for earliest-stage PropTech companies.
In addition, Cornell Tech's massive expansion on Roosevelt Island will churn out tech-savvy entrepreneurs with its highly immersive program starting this year. In addition, NYU's Schack Institute of Real Estate, as well as Fordham's Real Estate Institute, are premier universities that graduate talented individuals every year who either go on to start their own companies or become major influencers in the space. This dedication to PropTech at the student level has made NYC a hub of youthful innovation and has attracted the attention, investment and validation of New York City as the PropTech capital of the world.
NYC Real Estate Tech Week and the MIPIM PropTech Summit 2017
Finally, New York City hosts NYC Real Estate Tech Week which has become the "Davos of PropTech". Hundreds of PropTech leaders, entrepreneurs, strategists and influencers from around the world will meet in October for a week-long series of events, anchored by the MIPIM PropTech Summit, the single biggest global event in PropTech. Last year, Reed MIDEM, the #1 global real estate conference organizer, chose New York CIty as its first host city in the United States. With more than 500 attendees from 15 countries, the Summit has become a magnet for the best of the best real estate and technology leaders to come together to share their latest innovation insights. For more information on NYC Real Estate Tech Week and the MIPIM PropTech Summit visit realestatetechweek.nyc and www.mipim-proptech.com/en.html.