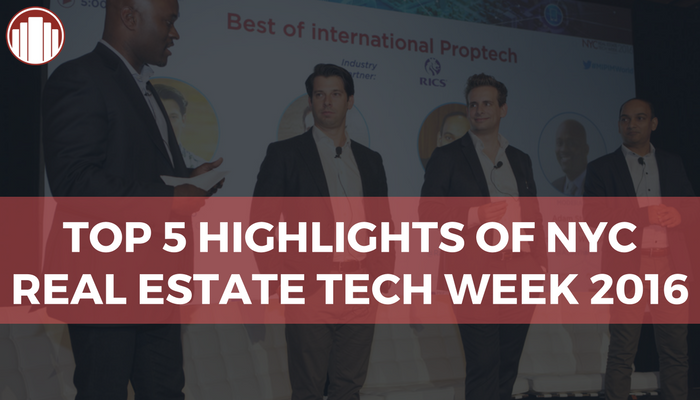 With NYC Real Estate Tech Week less than three months away, we wanted to take a look back at our favorite moments from 2016. Here are five of the best events and highlights from the NYC Real Estate Tech Week 2016. Don't forget to reserve your spot at NYC Real Estate Tech Week 2017!
Did we miss anything? Share your favorite moments from 2016 with us in the comments section!
5. Real Estate Tech Leaders Breakfast Roundtable
Ryan Slack, of GreenPearl, Ross Goldenberg, of SiteCompli and Aaron Block, of MetaProp NYC hosted NYC RETech Week's only invite-only event at The Altman Building. CEOs from the 2016 MetaProp NYC accelerator class attended and had an open discussion about the issues facing PropTech startups and the real estate industry as a whole.
4. Real Estate Tech Unbundled at Columbia University
Zachary Aarons, Co-Founder of MetaProp NYC, moderated "The Founders" panel at the Columbia Entrepreneurship Mini-Conference: "Real Estate Tech Unbundled," in the Convene Conference Center, 239 Park Avenue. The panel featured Amol Sarva Ph.D., Founder & CEO of Knotel; Stu Ellman, Columbia Business School professor & co-founder of RRE Ventures; Jonathan Wasserstrum, Co-founder and CEO of TheSquareFoot, and Susannah Vila, Founder of Flip, the anchor startup of MetaProp NYC's 2016 accelerator class. Introduced by Columbia's RED Program Director, Patrice Derrington, and moderated by Columbia University Trustee Marc Holliday, CEO of SL Green Realty Corp, the second panel, "The Practitioners," featured Robert Entin EVP & CIO, Vornado Realty Trust; Denis Hickey, CEO LendLease the Americas, and Jamie von Klemperer, President KPF.
3. Startup Competitons at MIPIM PropTech Sumit
The MIPIM PropTech Summit hosted the North American leg of the MIPIM Global Startup Competition. The competition recognized the most dynamic international startups offering real estate and urban management solutions and provided those competing with an opportunity to meet and pitch their business to relevant investors, developers, financial companies, media analysts and other key influencers.
The winners of the NYC MIPIM Global Startup Competition were 2016 MetaProp Accelerator graduate Ravti in the Building category, Envelope in the City category and StackSource in the Transaction category.
2. Eisner Amper Real Estate Private Equity Sumit
More than 485 real estate leaders packed into Pier Sixty for the Fourth Annual EisnerAmper Real Estate Private Equity Summit. The full-day event brought together deal makers from across the country to talk about trends in development and critical issues affecting deal flow, investment and capital sourcing. EisnerAmper's Lisa Knee led a "State of the Union" panel featuring Samantha Davidson, Managing Director at Goldman Sachs; Hugh Macdonnell, Managing Director & Head of Client Capital Management at Clarion Partners; Christopher Schlank, Founder & Co-Managing Partner of Savanna; David Schwarz, Managing Director at Colony Capital; James Nelson, Vice Chairman of Cushman & Wakefield, and Brandon Weber, Founder & CEO of Hightower. Partner Ken Weissenberg of EisnerAmper discussed the marketplace in a special, "Titans of the Industry," session with Leslie Himmel, Founder of Himmel + Meringoff Properties; Jonathan Kaufman Iger, Chief Executive Officer of Sage Realty Corporation, and Phil Watkins, Principal at Megalith.
1. Star Studded Keynote Speakers at MIPIM PropTech Summit
The MIPIM PropTech Summit, the flagship event in NYC Real Estate Tech Week drew an all-star cast of speakers. The Keynote Speakers included: Alicia Glen, Deputy Mayor for Housing and Economic Development for NYC; Brad Hargreaves, Co-Founder, General Assembly - Founder & CEO, Common, and Paul Massey, President, New York Investment Sales, Cushman & Wakefield. Bill Rudin, CEO, Rudin Management Company, made the day's introductory remarks.
Among the other speakers and moderators at the the Summit were:
Arie Barendrecht, Co-Founder & CEO, Wired Score
Karin Brandt, Founder & CEO, coUrbanize
Michael Britti, Senior Vice President M&A, RealPage
David Eisenberg, Founder and CEO of Floored
Ned Gannon, CEO, eBrevia
Geoff Lewis, Vice President of Product, Honest Buildings
Ragnar Lifthrasir, Founder & President, International Blockchain Real Estate Association
Duke Long, PropTech blogger and CRE broker
Caren Maio, Co-Founder & CEO, Nestio
Michael Mandel, Co-Founder & CEO, CompStak
Nick Romito, Founder and CEO of VTS;
Maria Seredina, Senior Manager, Corporate Development, Zillow
Sara Shank, Managing Director and Head of Portfolio Management at Beacon
Adam Stanley, Global CIO at Cushman & Wakefield
Karina Totah, Vice President of Strategic Initiatives at the NYC Housing Authority
Bradley Tusk, Founder and CEO of Tusk Strategies and Tusk Ventures
Jameson Weber, Vice President of Product Strategy, Hightower
AND MANY MORE...