We've been bringing the best of international PropTech to some of our favorite cities as we celebrate the 50th company in the MetaProp Accelerator at Columbia University.  The Alumni Summit series made its most recent stops in Korea and Japan this October.  These were the first of several planned Summits in Asia. I'm increasingly optimistic about the future of startup investments in the region thanks to the overwhelming interest in our startup CEOs.  While there, our portfolio CEOs had overwhelming interest in their companies, with an average of 15 qualified, new customer introductions per startup in each country!  Perhaps more interestingly, the MetaProp investment team and our regional head Satoshi Murakami kicked off diligence on several local PropTech startups.

Below are a few key takeaways from our recent Summit adventures.

Seoul, KoreaThe first stop on our tour was on October 12th in Seoul.  Our team has been familiar with the local PropTech market for several years thanks to our work with MetaProp portfolio company Dongnae and our decade-long relationship with its CEO Matt Shampine.  Matt keynoted the full-day Summit at the new and breathtaking RYSE Hotel along with MetaProp Accelerator at Columbia University alumnus Anthony Gantt of AtEase.  Other international startup founder presentations included ESG and smart building data  pioneer Mapped, construction-tech star Join, and Korean startup Interior Teacher.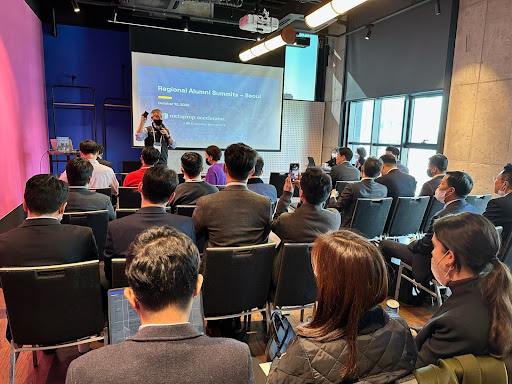 In the days leading up to the Korea Summit, MetaProp partners Zach Aarons, Maureen Waters and Zak Schwarzman joined me for Seoul property tours and meetings with several local startups, venture firms and CVCs, government agencies, and investment partners.  Maureen also hosted a closed-door workshop with regional MetaProp LPs to discuss current PropTech market trends and our latest cross-border PropTech research and best practices. The day after the Summit, MetaProp limited partner CBRE hosted a PropTech "Lunch & Learn" for Korean clients. One unique highlight of the Summit in Seoul was a sunset celebration of PropTech 101's second edition publishing in Korean thanks to our friend Leo Moon and publisher AppleTreeTale
Tokyo, JapanThe second stop on our Asia Summit tour was Tokyo, Japan on October 19th. This time, CBRE hosted a full-day summit at their beautiful offices overlooking the Imperial Palace.  After a delicious bento box networking lunch, curated PropTech executives from abroad (Measurabl, Mapped, Join, and Google) and the Japanese market (Terass, Inspace) presented their technologies.Maureen led off the day with another cross-border PropTech workshop exclusively for MetaProp's local limited partners and we finished the day with more networking, drinks, and snacks.   My key observations from the Tokyo summit included 1) a clear ESG commitment from the Japanese real estate industry and 2) international startups initiating dozens of new client relationships.

In the days before and after the Tokyo summit the MetaProp partners and APAC lead Satoshi Murakami toured the local market, visited with all of our local investors and new property industry partners, VCs, and CVCs.  Like in Korea, the team began diligence on several Japanese PropTech startups.  Spending time in Mitsui Fudosan's magnificent offices in Nihonbashi was certainly a high point!
Throughout the Asia Summit travels, the MetaProp team encountered outstanding hospitality from several of our regional investor partners, getting behind-the-scenes views of some of the best real estate in the market and celebrating our years of successful joint investing.
The MetaProp Accelerator at Columbia University Regional Alumni Summits will continue over the next six months with planned stops in the US, Canada, France, Singapore, and Hong Kong.  I have to admit that it's hard to be away from family but our team loves bridging our incredible PropTech ecosystem with emerging PropTech markets worldwide.