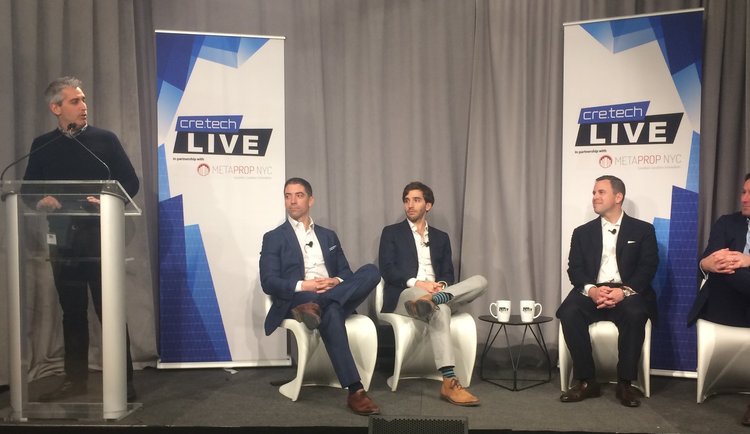 Part of our mission at MetaProp NYC is to provide the global real estate community with easily accessible entry points to engage with property technology. One of the best and most foundational ways to do this is through intellectually rigorous, real-world education. In an effort to open this important gateway into PropTech,
we have partnered with cre.tech to create the industry's first and already highly regarded real estate tech educations series, cre.techLIVE.
The latest of these thought-leadership events -- Commercial Real Estate Brokers as Change Agents, happened today, March 30, 7:30 a.m. to 10:30 a.m. at 4 Times Square, Manhattan. 
This highly curated series touches every part of the real estate value chain, focusing each event on an industry vertical or sub-discipline to bring maximum informational clarity and up to the minute tech knowledge to the specific audience. Whether you are a commercial or residential broker, facilities or project manager, or other real estate professional, the cre.techLIVE events provide expert speakers and panelists with powerful PropTech insights into your business. The events are also perfect for the uninitiated in the PropTech world, allowing ease of access into the language and innovation coming out of the local and global real estate startup community.
Recently, cre.techLIVE presented:
Property Executives Gather to Discuss Commercial Real Estate Technology -
An examination of how facilities managers and other workplace experts are relying heavily on rapidly evolving technology. As more advanced solutions become available, it's increasingly important to modernize buildings and operations. Some of New York City's top facilities and workplace executives gathered to discuss how technology is making its way into their daily operations. The expert panel shared best practices and the latest hardware, software and cloud-based solutions they have adopted to help keep their real estate on the cutting-edge. Participants included: Adam Edrington, Manager of Facilities and Operations at Compass; Alison Kwiatkowski, Projects and Strategy Lead for JLL's Deutsche Bank Account; Dennis Sherry, Regional Director of Management Services for Newmark Grubb Knight Frank; and Ron Jerman, Vice President of Commercial Operations for The Durst Organization. The discussion was moderated by Russell Olson, Founder of ROI Consulting Group and an Adjunct Professor at Pratt Institute. Find out more about this event here! 
Facilities Management Technology - Facilities managers are increasingly expected to play a leadership role in the modernization of our buildings and workplaces. Real-time data and analytics are transforming the way we manage the built environment and boosting FM's strategic value in a data-driven business culture. Every building system is being transformed by digital innovation — lighting, connectivity, climate control, vertical transportation, and more. Technology is also continuing to make its way into the facilities professional's daily routine, especially in the form of on-demand services and cloud-based software. As more corporate occupiers and real estate companies move their operations online, they need strategic vendors whose systems integrate seamlessly with their own. Global real estate executive Brian Schwagerl talked about best practices and the latest hardware and software for cutting-edge facilities management and workplace enhancement. Find out more about this event here!