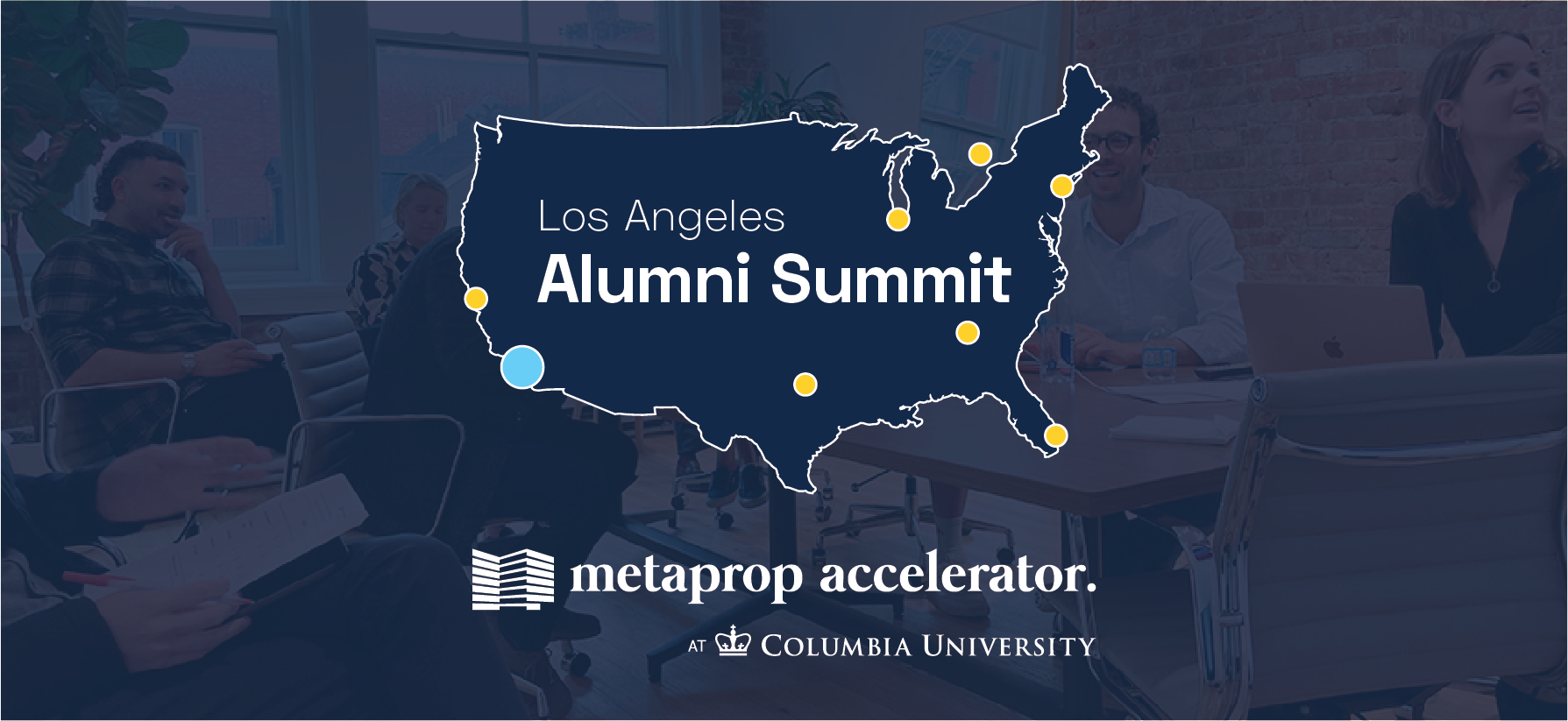 On Thursday, March 24th, we kicked off the MetaProp Accelerator at Columbia University Regional Alumni Summit series. CBRE's Executive Managing Director & Executive Vice President Andy Ratner, Global Vice President, Digital & Technology Strategy and Digital Partnerships Alison Bell, and Advisory & Transaction Services Sr. Vice President Eric Thomas coordinated the "Lunch & Learn" program featuring a delicious taco buffet, three startup presentation workshops, a PropTech market talk, networking, and an office tour. Attendees included MetaProp Accelerator alumni, VCs, institutional real estate investors, various teams from CBRE, and family office investors.
Cutting edge local technology startups presenting at the LA Summit included:
Sugar - An all-in-one solution that lets apartment residents pay rent, unlock doors, share keys, interact with neighbors and more
Alpha'a - A new solution for artists and institutions to easily issue NFTs attached to real and digital objects and sell directly to collectors.
StayOpen - Stay & play communities for digital nomads and creatives in repurposed buildings
Andrew Swedloff, COO of StayOpen, a graduate of MetaProp Accelerator at Columbia University class of 2022, remarked "The LA Alumni Summit was a great opportunity to share more about the platform we're building. We met useful folks in the real estate industry and potential investors who want to transform vacant and underutilized commercial properties into work/stay/play communities via StayOpen."
CBRE's Alison Bell remarked, "CBRE is pleased to partner with MetaProp on these Summits. It's great to see the PropTech community come together again in-person to learn from each other as we endeavor to transform real estate through technology. We look forward to partnering on the next Summit."

The next Regional Alumni Summit will be in Chicago on Monday, May 16th. CLICK HERE to see the latest city dates and to pre-register for future Summit events.
About the Regional Alumni Summits:

In celebration of our 50th PropTech startup accelerated, MetaProp is bringing the best of PropTech to key markets around the world via a series of 10 regional "Alumni Summits." Each MetaProp Accelerator at Columbia University Alumni Summit will be hosted by CBRE and will feature speakers, educational panels, and presentations covering cutting-edge real estate technologies with a particular focus on property innovation's intersection with ESG, Web3/Blockchain, and the Metaverse. Together with program alumni, mentors, and media partner Propmodo, the MetaProp investment team will be visiting local PropTech startups, investors, and enthusiasts. Invited guests will include accelerator graduates and portfolio CEOs, institutional and industry investors, and local Columbia University alumni; several activities at each Summit will be open to the public. Upcoming Summit stops include Dallas, Chicago, New York, San Francisco, Atlanta, Miami, and Toronto.