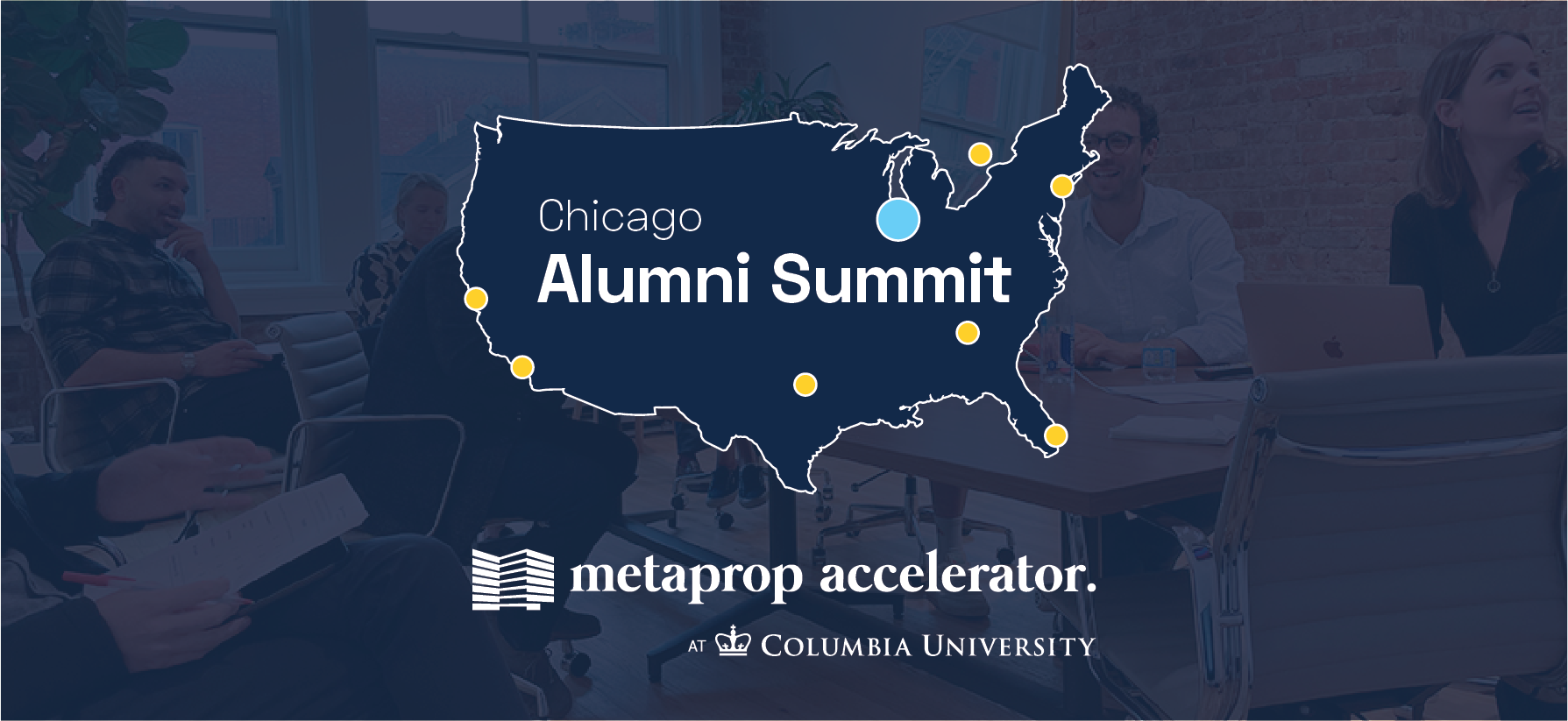 On May 16th we held the second MetaProp Accelerator at Columbia University Regional Alumni Summit on a picture-perfect, sunny spring day in Chicago. Similar to the Los Angeles kick-off in April, this Alumni Summit was hosted in CBRE's beautiful downtown Chicago offices.
The Chicago Summit kicked off in the late morning with a "Lunch & Learn" program.  Participants included Notre Dame University real estate professor Bruce Lohman, innovation-centric executives from Equity Residential (EQR), Lincoln Property Company, and Blue Vista Capital Management, a top VC law firm managing partner, as well as investors from several local family offices. Presenting PropTech startups included:
Joe Lee, CEO of Locate.ai and a graduate of MetaProp Accelerator at Columbia University class of 2019, said "The Summit connected me with several other successful PropTech founders and potential industry partners. I also got to share more about our company's continued growth since graduating from the MetaProp accelerator program."

After the Lunch & Learn session, the group toured Chicago innovation hub 1871 and was treated to a quick visit from real estate maintenance services entrepreneur and current Illinois gubernatorial candidate Gary Rabine. The Regional Alumni Summit concluded with a closed-door Web3 Real Estate workshop and presentation with MetaProp's innovation services Director Safi Aziz.
About the Regional Alumni Summits:

In celebration of our 50th PropTech startup accelerated, MetaProp is bringing the best of PropTech to key markets around the world via a series of 10 regional "Alumni Summits." Each MetaProp Accelerator at Columbia University Alumni Summit will be hosted by CBRE and will feature speakers, educational panels, and presentations covering cutting-edge real estate technologies with a particular focus on property innovation's intersection with ESG, Web3/Blockchain, and the Metaverse. Together with program alumni, mentors, and media partner Propmodo, the MetaProp investment team will visit local PropTech startups, investors, and enthusiasts. Invited guests will include accelerator graduates and portfolio CEOs, institutional and industry investors, and local Columbia University alumni; several activities at each Summit will be open to the public. Upcoming Summit stops include Dallas, Chicago, New York, San Francisco, Atlanta, Miami, and Toronto.  CLICK HERE to see the latest city dates and to pre-register for future Summit events.