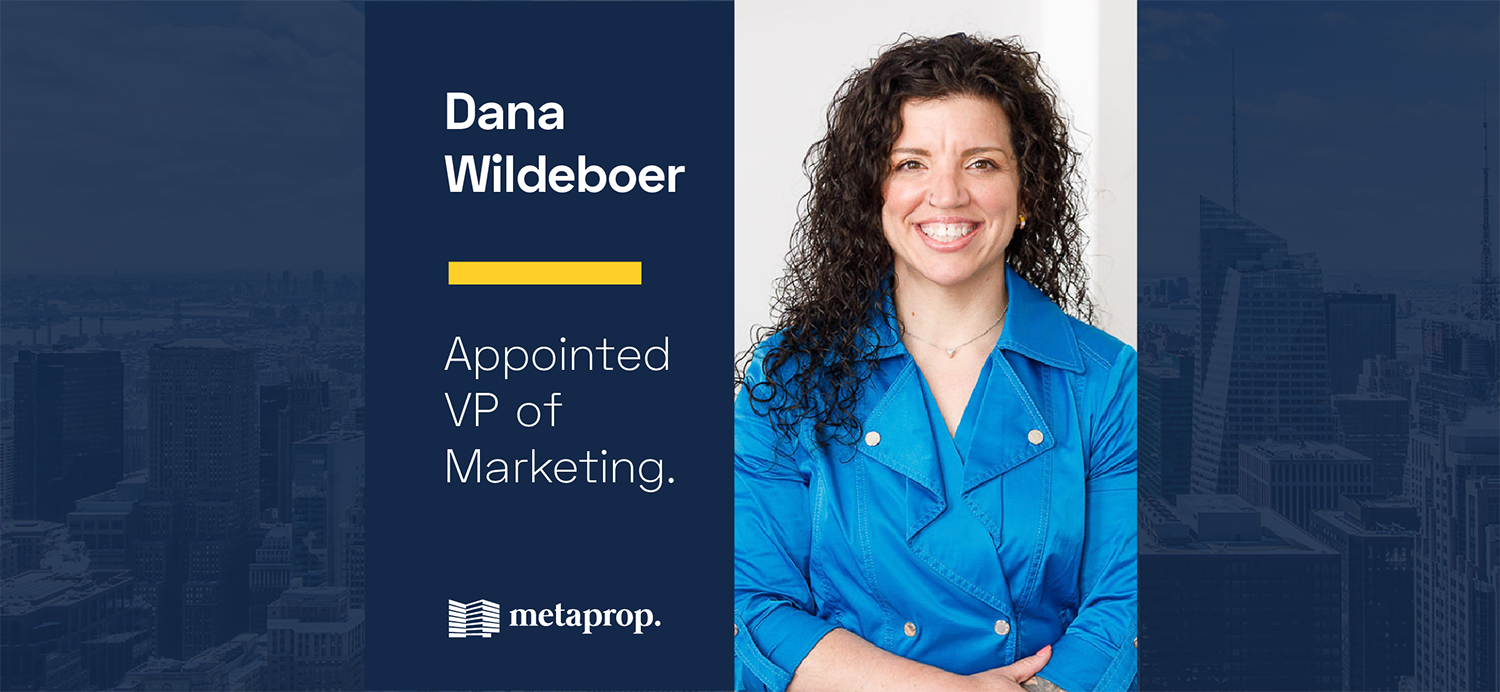 Meet MetaProp: New VP of Marketing, Dana Wildeboer
Despite all that is happening in the world, and the current state of the market, MetaProp continues to achieve milestones that advance our mission, our founders, and partners and continue the global expansion of our business. Over the first half of the year, we launched the latest edition of our bi-annual Global PropTech Confidence Index, added six new investments to our startup portfolio, supported two startups with follow-on funding, and welcomed 5 new strategic partners to our PropTech ecosystem.

Most recently, we welcomed Dana Wildeboer as Vice President of Marketing. In this role, Dana will deepen our firm's marketing competency; raising awareness and educating global audiences about the impact of PropTech and MetaProp's work around the world and across the entire real estate value chain.  Dana will also strategically support our portfolio companies and help MetaProp founders accelerate their growth through brand-building, innovative marketing strategies.

We're excited to have Dana bring her operating experience from MassChallenge where she led marketing as the organization pivoted to a global footprint.  She was also responsible for program design launching and scaling internal communications at Hulu, and innovation leadership connecting corporate innovators and founders to solve business challenges through startup-led innovation.

MetaProp partner Maureen Waters sat down with Dana to discuss what excites her about this next career adventure and to get some advice for early stage marketers.
Maureen Waters: Dana, please introduce yourself to the MetaProp community.
Dana Wildeboer: Hello, MetaProp! It's so great to "meet" you. The elevator pitch about me and my career – let's see…

I have been in the trenches with startups for nearly twenty years. I consider myself a marketing leader at the intersection of storytelling, innovation, and social impact and I've made it my life's work to support founders and their teams from the earliest stages and accelerate their growth. Along this path, I have served with organizations that have focused on impacting the way we live, work, and play. The most important theme that connects all of my experience is being on the ground early with founding teams to build new and evolving brands through authentic communications and strategic marketing. 
M: What does entrepreneurship mean to you?
D: I could define this based on my professional experience however, entrepreneurship is much more personal to me.

My first understanding of entrepreneurship was defined by the small businesses run by family members while growing up in the suburbs of Philadelphia. In general, asking questions that challenged the status quo were looked down upon and doing work to transform humanity wasn't discussed. The goal of these businesses was to keep the family safe, healthy, and educated; and it worked.

It wasn't until my early twenties when I moved to Los Angeles and started working at the USC Stevens Institute for Innovation that I learned a new definition.  Innovation became new ideas that have the potential to impact the way we all live, work, and play; and entrepreneurship is the unique driver to bring those ideas to life. Spending those early career days with creative thinkers and tenacious problem solvers that believed their work was never really done was transformative. It took several years to break through those belief systems, but over time, I went from believing that work was only meant to pay the bills to believing that by helping founders I, too, have power to transform lives and livelihoods..

Now, I see entrepreneurship as the skill to ask hard questions and turn those inputs into tangible results that will improve the human experience through technology and community. Entrepreneurship is a lever for massive change. 
M: Why did you join the MetaProp team?
D: I began working with MassChallenge, the global network for innovators, in 2017. Through that work, I had a birds-eye view into the emerging markets and industry trends including a front row seat to the rise of HealthTech, FinTech, SpaceTech, SportsTech, and Safety and Security from all corners of the world. It's my job to know what's up-and-coming across industries and understand how startups play a role in solving the world's biggest problems. Conversations around real estate and the need for technological advancement in the siloed and antiquated industry were quickly becoming part of my day-to-day.

Through strategic recruiting efforts the MetaProp team and I were able to connect, and for me there was an instant excitement and attraction to the opportunity. The more I learned about the firm, the industry, and the team the more I saw MetaProp's mission as something I wanted to serve; the built environment impacts everyone. What sold me on the opportunity was the universal belief that legacy challenges facing the built environment could be solved by today's entrepreneurs through technology.

I believe that MetaProp's commitment to investing in sustainable technology and its impact on decarbonizing the built environment is one of the most important challenges that the real estate industry faces.  Being involved with an organization that prioritizes DEI was also very important to me. MetaProp's longstanding commitment to diversity within the firm and its portfolio companies, made my decision easy.  Having seen firsthand the impact of HealthTech and FinTech; I knew that I couldn't give up the opportunity to have that kind of impact through PropTech working with some of the biggest and most innovative names in real estate including Mitsui Fudosan, Ivanhoe Cambridge, PGIM, AECOM, Development Bank of Japan, CBRE, Sumitomo Mitsui Trust Bank, Cushman & Wakefield, Swire Properties and Ferguson Enterprises, too name a few. I'm not one to shy away from a challenge and I see the opportunity to raise awareness for PropTech and MetaProp's impact as one of the greatest stories to yet be told.
M: What is your favorite campaign or marketing program from your career?
D: That is a hard one. There are many programs I have loved over the course of my career; producing the first ever TEDx, designing internal communications systems at Hulu, helping DreamIt scale their programs to five locations, running content campaigns for Dell – the list goes on. To keep it short, I'll say that launching and hosting the first MassChallenge Texas in Austin accelerator and awards ceremony was a career-defining moment.

When MassChallenge first established a presence in Texas, we did not have the warmest reception. In fact, some went out of their way to sabotage our work. I mean, after all, it was a Massachusetts-based organization setting up shop in Texas with "Mass" in the name; and if there's one thing Texas doesn't like, it's other states coming in to tell them how to do business. We used this to our advantage and focused on engaging those who support the mission. At the end of our first year, we revealed the top startups from our inaugural accelerator program in a standing-room-only gala event that brought together the best of Texas innovation to celebrate entrepreneurship and creativity and awarded over a half-million dollars in equity-free cash prizes to founders from the program. That was a surreal moment; and one I won't forget. 
M: What is the best lesson you've learned in your professional journey?
D: The art of giving feedback. Coming from Philadelphia, I quickly garnered the reputation as someone who will tell you how it is; it's what us Philadelphians do and we do it with expletives, too. What I didn't realize was that I was only giving feedback from my perspective and not taking the full picture into consideration. Once I learned to take a step back to see everything at play, I learned how to deliver feedback that could be used (or not) by all stakeholders, including the top decision makers. This made me a trusted partner to many team members and it greatly benefited my own work to advance brands and attract new customers. It also helped me to soften my delivery.  The delivery of feedback is as important as the message you want to share. Learning how to be someone people want to hear difficult news from has become my superpower.
M: What is your #1 piece of advice for early stage startup marketers/marketing?
D: I think the first thing you'll hear all marketers say is "know your audience". Which is so true. You have to know who you are speaking to and what it takes to convert them. If you don't have that, you're going to have a very hard time reaching the right people, at the right time and place. I think at this point, "know your audience" goes without saying.

The piece of advice that I give to marketers, founders, and early stage CEOs, now is to build media relationships and become an indispensable resource for them. In a world where the digital landscape is moving away from earned media to paid - it's important you have the relationships that will keep your name and brand top of mind for reporters and producers.
M: What is life like for you outside of work?
D: If you've made it this far into the conversation, I think you can tell that work-life balance isn't something I strive for, rather I focus on creating work-life integration. The biggest elements that I integrate are my family, fitness, and food. 
Family: I live in Salt Lake City, Utah with my husband and three dogs. We make it a point to travel a few times a year to new places and also to see our family and friends from San Jose, Ca across the country to Philadelphia, Pa. Because we have our K9-kids we are often road tripping to the next location. Don't be surprised if I take a call from the road.

Fitness: Movement is key to life; especially when we are sitting at desks and in cars all day. We have to move to ensure we have our best bodies available to live our best lives. Personally, I believe nothing feels better than being strong so you will often find me lifting weights and aiming for a PR during my workouts. In a former life, I was a world-record holding powerlifter and still remain one of 10 women in history to squat over 700lbs in competition. While I don't lift to that extreme anymore, the lessons I learned over that decade of training have spilled into every aspect of life. I attribute my ability to navigate chaos and achieve goals to what I learned as a world-class athlete.

Food: Food is my love language, and everything tastes better in big bites. Enough said.
Learn more about Dana and her career by reading her bio on our website, or connecting with her directly on LinkedIn.