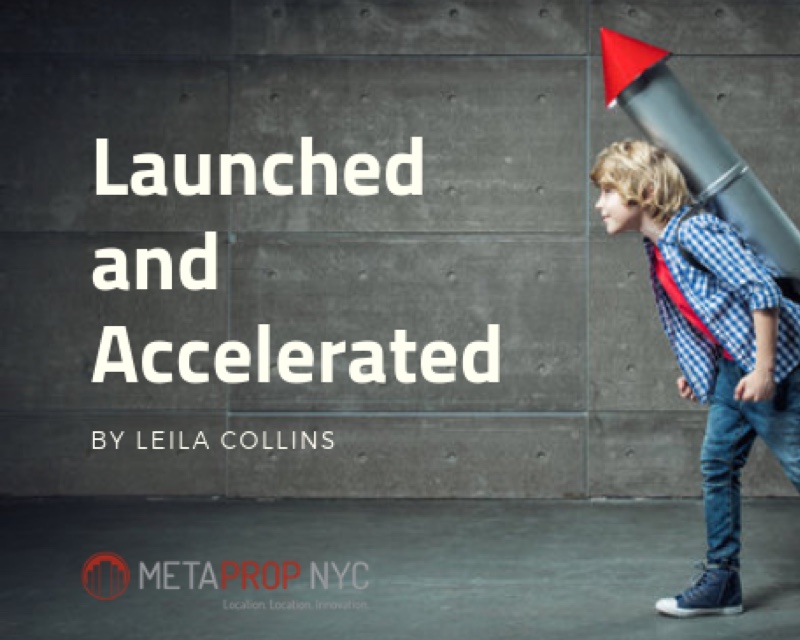 On September 13th, we welcomed six new startups to the MetaProp accelerator family. The past month has been energizing, challenging and productive for them and us as we ramp-up the startups' growth curve.
MetaProp integrates its venture fund and advisory businesses with its accelerator companies. Over the summer we launched our Fund II and recently added a new Consortium of sponsors, making the MetaProp community more integrated and stronger than ever. At the beginning of the accelerator program our number one goal is to connect each startup in the cohort to our broader community. As our network of investors and sponsors has grown, so too have the opportunities for our companies
John Kang, CEO of Reasi, flies across the country every other Thursday to join us. He explained that so far, our community has been the greatest value he has gained from the program: "MetaProp opened up the East Coast PropTech ecosystem for us.  We've lined up back-to-back meetings with partners we would have struggled getting in front of. Furthermore, the program has helped with branding and navigating broker and title relationships," John explained.
At the same time, the glue that truly holds the class together is the cohort itself. Ultimately, the program is hard work, requires frequent travel and a great deal of dedication. Each year, we find that CEOs push through for their cohort mates. John explains: "Meeting the other cohort founders has been inspirational. We're all so motivated and committed that it's contagious, and learning about their experiences has been an unexpected bonus as Reasi tackles similar challenges."
We are looking forward to watching this class grow and mature. In particular, we are looking forward to finding ways for all of you (our community) to engage with them. Take a look at the list of companies and some highlights from orientation, below.
The 2018-19 MetaProp Accelerator at Columbia University cohort includes a diverse mix of founders who are looking to solve big problems in interesting and challenging areas of PropTech, including smart cities, residential brokerage, tenant advocacy and sustainability. The companies are using cutting-edge technology, including computational geometry, blockchain and machine learning to solve some of the industry's biggest problems. Take a look at the group of startups below:
Aegis AI (Chicago)
Aegis AI uses computer vision to identify weapons in surveillance camera footage, dramatically reducing law enforcement notification time and saving lives in an active shooter situation.
Avvir (NYC)
Avvir compares laser scans of constructions sites to BIMs in order to identify construction errors, monitor progress, and ultimately enable a dynamic living digital twin of a building that can be used as a platform for the management of smart buildings.
Furnishr (Toronto)
Furnishr is a turn-key home furnishing platform that designs, sources, delivers and setups your home all in one day.
Jabbrrbox (NYC) Jabbrrbox is a new workplace solutions company bringing privacy to commercial and public spaces. The Jabbrrbox solution fills a critical void in the public and private marketplace and is engineered for today's modern mobile workforce.
LiveBy (Nebraska)
LiveBy is a hyperlocal data company focused on empowering brokers, teams and agents with the tools to showcase their local expertise. With plug-and-play local content for websites and new, sharable Neighborhood Guides and Market Reports, LiveBy helps real estate professionals prove why they know their markets best.
Reasi (LA)
Reasi is an online real estate escrow service that provides a secure and seamless home-closing experience. We eliminate escrow costs using our blockchain platform, support the transaction from offer to close, and bring simplicity & security to a $10 billion escrow market plagued by frustration and wire scams.