Founder Q&A | VergeSense - Using AI to help employers get back to the office after COVID-19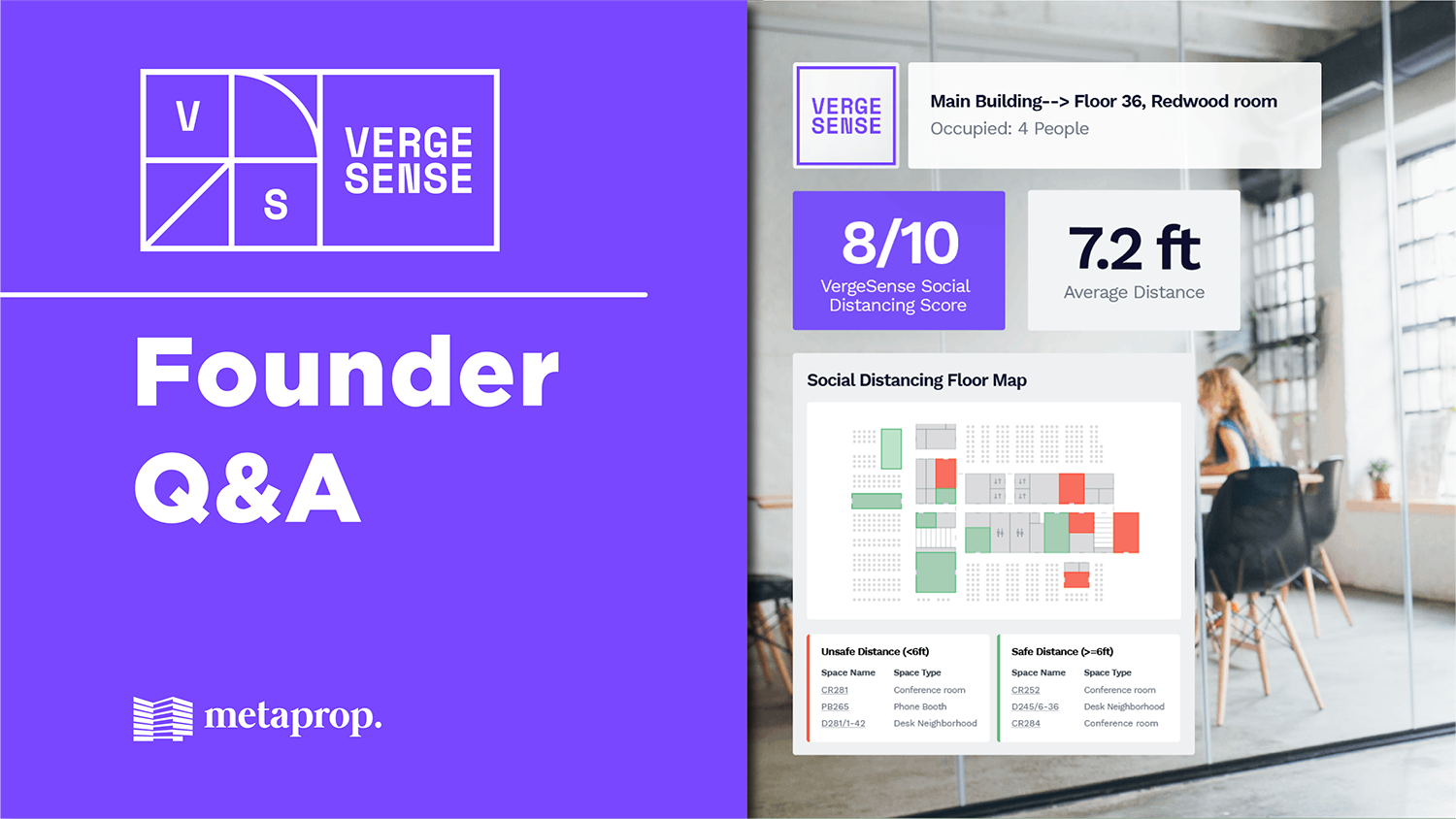 We sat down with Dan Ryan, CEO and Co-Founder of MetaProp portfolio company VergeSense, to learn about how the current COVID-19 crisis has been affecting their customers, how VergeSense's solutions have been helping them navigate these difficult times, and all about their new back-to-work system Restore. Read along!
FOR READERS WHO MAY NOT BE FAMILIAR WITH YOUR COMPANY, CAN YOU DESCRIBE VERGESENSE? 
VergeSense is the leading AI-powered sensor provider for the workplace. We offer a suite of technologies that enables insight into the ways people use space and get work done. Our sensors capture data that our analytics dashboard translates into real-world recommendations.
Our customers rely on us to power agile workplace design, enhance employee experience, optimize real estate portfolio investments, and facilitate workplace re-entry and smart cleaning protocols. Today, we process 6 million sensor reports a day for nearly 70 customers. This includes 40 FORTUNE 1000 companies that we provide services to across 20 million sq. ft., 250 office buildings, and in 15 countries.
HOW HAS THE COVID-19 CRISIS IMPACTED WORKPLACES?
Almost overnight, entire organizations were forced to adapt to new challenges that come with staying healthy, safe, and productive during a global pandemic. Since our clients are huge advocates of collaboration in the workplace, this shift has been a stress-test. Companies are eager to return to the office, as long as they can ensure their employees that they are safe to do so.
As a result, COVID-19 has prompted a dramatic uptick in interest in our products, namely our occupancy sensors that help workplace managers comply with social distancing guidelines and strategize around workplace re-entry. One of the most frequently asked questions we hear is 'how many people can I allow back into the office?', followed by 'what tools and solutions will help me ensure my employees are safe when they do return to the office?'
Like everyone else, enabling contactless interactions is also top priority. A lot of our customers are turning to more seamless, automated control systems, and mobile-based booking and reservation tools as a result. This allows their employees to automatically reserve or release desks and conference rooms and thus limit the use of shared surfaces. 
Meanwhile, our customers are showing a lot of interest in using occupancy data for smarter cleaning. Even pre-COVID, there was some chatter about doing this. But now that cleaning and sanitization processes are key to a company's reopening strategy, it has finally come to fruition.
So while this pandemic has created many challenges for companies across the globe, it has also created an opportunity for them to start conversations about what makes their office unique and what they can do now and in the future to create a better and safer employee experience. 
HOW IS VERGESENSE HELPING COMPANIES NAVIGATE THESE CHALLENGING TIMES?
Since COVID-19, companies have been turning to new VergeSense functionalities to solve their most significant problem -- getting employees back into the workplace safely. This week we launched Restore, a data-enriched system designed to support workplace re-entry strategies and more. Powered by image-to-data capabilities unique to our sensor, such as the ability to measure social distancing, Restore is being used by our clients to re-enter safely, make informed decisions, and restart with confidence.  
As an example of how our data creates actionable intelligence, in the months leading up to COVID-19 and as offices began to re-open, we analyzed 28 million+ sensor readings and over 6.2 million occupancy events across Fortune 1000 office space around the world. We discovered some fascinating trends that executives everywhere will want to consider as they reopen their offices. Our data from both before and after the onset of the pandemic illustrates that workers find it challenging to comply with the current CDC recommendation of six feet of distancing. Historically, 97% of employee interactions occur under the recommended minimum distance. In fact, the median nearest-person range in shared spaces within the office typically averages just 2.69 feet. We found this to be true even in larger rooms. 
What this tells us is that even as companies look to stagger returns to the office — with perhaps 25% of employees returning in Phase 1 — distancing workers will require radical behavioral change. Simply closing small conference rooms and opening larger ones will not necessarily ensure proper social distancing. Large collaborative spaces (those built for 3+ people) account for the majority of in-person interactions. Hence, decision-makers should give more weight towards communicating policies around the usage of these spaces, as they will make the largest impact on overall social distancing.
HOW HAS COVID-19 IMPACTED VERGESENSE'S BUSINESS?
Helping companies ensure a safe return to the workplace was something we never envisioned. However, that's the benefit of our highly adaptable sensor solution. Before the crisis, we were assisting customers with analyzing employee interactions as signs of workplace engagement. Today, that same sensor capability is helping our customers accommodate social distancing. 
Demand for these capabilities that VergeSense offers is creating a significant growth opportunity. We're on track to increase sales bookings by 500% quarter over quarter. Additionally, in May, we closed a $9 million strategic investment led by Allegion Ventures -- a $50M corporate venture fund of Allegion plc. JLL Spark, MetaProp, Y Combinator, Pathbreaker Ventures, and West Ventures also participated in this latest funding round.
HOW HAVE YOU SEEN THINGS CONTINUE TO EVOLVE THROUGHOUT THE CRISIS? ANY PREDICTIONS AROUND WORK LIFE GOING FORWARD?
Organizations and their employees have adapted really well to remote work. As well as remaining productive during incredibly stressful times, employees have enjoyed the flexibility of more personalized hours and having increased downtime with their families thanks to COVID-19 eliminating their commute. As a result, many people have been presumptuously pronouncing the office dead. We don't envision this happening. Instead we see a rebirth of the office.  
While in the past the office was a place for managers to monitor employees and to store rooms with large computers, filing cabinets and other equipment, today the office can also serve as a haven for employees to escape at-home distractions. COVID-19 has illustrated how the office's value really lies in how it enables collaboration and socializing between employees. Perhaps this is why a recent JLL survey of 3,000 workers found that 58% of employees missed the office, with those 35 and younger showing the strongest desire to return. 
But now that employees have become accustomed to working from home during the pandemic (as well as all the benefits of zero commutes etc.), workplace managers need to ensure that their office is worth returning to. We predict that new employee demands, combined with critical realizations from the C-Suite coming out of the pandemic, will only accelerate the shift to flexible, agile, and technologically advanced workspaces.
To learn more, please visit VergeSense.com.