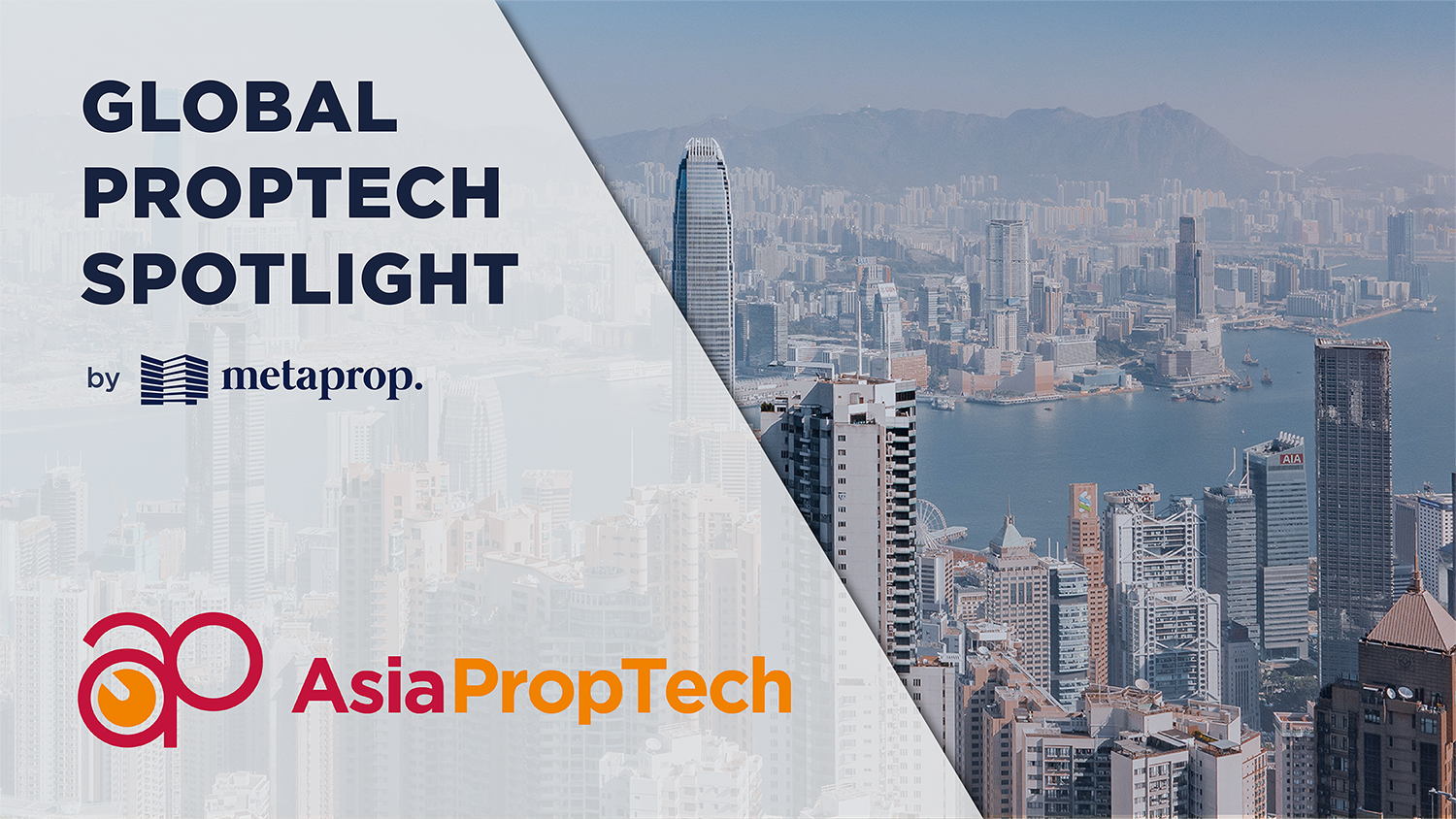 The Global PropTech Spotlight is an initiative that highlights the most influential PropTech Associations and thought leaders from around the world. Read about how some of the most recognized PropTech organizations were started, some of their biggest success stories, the most cutting edge technologies in their region, and more.
FEATURING
WHY WAS ASIA PROPTECH STARTED AND WHAT IS YOUR ULTIMATE MISSION? 
In 2016, as FinTech was gaining adoption within the banking industry, real estate companies were still slow to recognize the opportunities from technology. During that time, fear of disintermediation and the unknown far outweighed the optimism from opportunity.
In response, Asia PropTech was initially formed to connect real estate companies and technology entrepreneurs and to educate the market on the opportunities within PropTech. As the first PropTech-oriented ecosystem founded in Asia, our mission was to connect people and foster an understanding of PropTech and synergize the forces and knowledge from PropTech startups, real estate corporates and investors.  
Initially, innovations and adoption of PropTech in Asia trailed behind North America and European evolution. But in recent years Asia has been catching up. Thus, our focus has shifted from being just a community to becoming a PropTech co-creator of innovation solutions with Asian real estate players. We work with real estate companies and tech entrepreneurs to drive innovations in the Asian real estate markets and to play a part in redefining the future of real estate.
HOW DID YOU FIRST GET INVOLVED IN PROPTECH AND INNOVATION?
Leo Lo is the founder of Asia PropTech. Leo states: "my background as a real estate surveyor provided me with extensive knowledge in the real estate and capital market industries. These observations provided me an understanding of the shortcomings and the needs of different real estate players in the field. Many of them have not been considering technology as a solution to business problems like they should. Spotting the opportunities in PropTech of Asia, I started up Asia PropTech trying to bring the thought leadership to the "bricks and mortars" industry to engage in PropTech. 
Paul Chen is a founding partner at Asia PropTech. For over 15 years, Paul has helped global real estate investors and operators to enhance their operating platforms through technology and innovation. Using new tools to solve age-old problems was a natural thing for Paul to do.
WHAT ARE TWO PROPTECH STARTUPS IN YOUR REGION WITH CUTTING EDGE INNOVATIONS?
Rather than a moment of epiphany, we view PropTech innovations as systems and business models that evolve over a period of time. For example, the WeChat app has developed into an ecosystem covering messaging, social and payments. Real estate CRM, service requests and payments are commonly integrated with the WeChat app.  
Ziroom, based in China, focuses on the residential market by consolidating the fragmented residential for rent market. Ziroom takes long term leases with individual landlords, then refurbishes and rents the units. Ziroom's massive inventory and technology gives it a competitive edge. Its in-house developed rental app enables an end-to-end contactless rental experience, from search, virtual tour, application, lease and payment. This was all made possible before Covid-19.
WHAT'S AN EXAMPLE OF A SUCCESS STORY THAT ASIA PROPTECH CREATED FROM ITS EFFORTS?
Through Asia PropTech's co-creation lab, we have recently developed a total solution for facilitating the developers' property sales process.  The project involved the co-creation by four different PropTech companies, to automate the real estate sales process from the sales and purchase agreement, to mortgage and credit analysis, to automated valuation and automated legal documentation.  We are currently working closely with various real estate developers in Singapore, Malaysia and Hong Kong to pilot the product.
WHAT ARE SOME INTERESTING MARKET FACTS ABOUT ASIA?
Hong Kong is the most expensive real estate market in the world. Hong Kong is home to some of the smallest and most expensive living places in the world. Flats can be as small as 60 square feet, whereas a 200 square foot flat can sell for over $1 million. Hong Kong also consistently tops annual surveys in having the most expensive rental prices for residential units and office space in the world. 
Asia is home to 3 of the top 10 global real estate markets. By value, three of the top ten global real estate markets are in Asia (Japan $831B, China $540B and Hong Kong $366B) vs the USA at $3.146T (MSCI Real Estate Research Snapshot 2019/2020).
Asia is home to over half of the most valuable unicorns in the world. Of the top 25 startup unicorns in the world, 12 are from Asia (China 7, India 2, Singapore, Indonesia, South Korea) vs. 11 from the USA. (CB Insights May 2020).                                 
Take Hong Kong as an example, while Hong Kong's real estate market has been extremely active in trading, the development of PropTech is still at an infancy stage. Even if there are PropTech products and services, they are mostly sale and rent orientated, such as co-working space and trading platform. With extreme housing shortage, the Hong Kong market, in general, still sells space as brick-and-mortar only and has low incentive to innovate.
WHAT ARE SOME MAJOR TRENDS YOU EXPECT TO SEE IN YOUR REGION POST-COVID?
Surprisingly, housing prices did not drop dramatically like prices dropped during SARS in 2003. While the negative impact from the pandemic will be felt industry wide,  land developers might have some downside, but the most significant impact will be felt by real estate owners for assets such as hospitality, retail and office. These asset classes took a huge hit from the empty streets resulting from the Hong Kong protests. 
After this pandemic, we expect to see more diverse uses of space, perhaps hotel rooms can also serve as patient rooms, perhaps the hotel corridors can turn into art museums. In order to survive, we need to adapt. Hotels cannot remain as hotels anymore. Maybe it will be another virus, or global warming, we don't know yet, but the next big hit will be coming, and we need to be ready.
WHAT TYPES OF CONTENT/EVENTS DOES YOUR ASSOCIATION PRODUCE?
Previously we held a PropTech Innovathon (hackathon), regional PropTech summits, and pitching events to support the start-up community. These events helped advance ideas, raise funds, and stimulated knowledge exchange. We also have a PropTech blog on our website to discuss the latest PropTech trends and events.
Similar to the rest of the world, in the last couple of months we have moved our events online and partnered with Unissu to support Connect, an open online content which is equivalent to the PropTech version of TED talks. Right now we are working with Softbank Robotics, a top 25-ranked University and regional PropTech associations to provide webinars and formal training courses. We aim to advance the ability of business professionals to execute PropTech initiatives within their organizations.
IN THE NEXT 10 YEARS, WHAT AREA OF THE REAL ESTATE INDUSTRY WILL CHANGE THE MOST DRAMATICALLY, WHY?
We foresee A.I. and blockchain as key drivers that will greatly transform the traditional real estate investment and conveyancing process. 
Right now, countless intermediaries in the mortgage process generate unnecessary costs such as intermediary fees, legal fees, and property right verification fees, creating not only high transaction friction, but also prolonged processing time that can last for 30 to 60 days.
Countries such as Sweden, Ghana, Georgia, and Hong Kong are now using Blockchain to speed up the whole process after Blockchain has been invented for 12 years. Technology adaptation is always much slower than we think. Give it another 10 years, we hope the traditional sluggish real estate conveyancing process will no longer exist and will be fully fueled by Blockchain resulting in much lower transaction costs and a better customer experience.