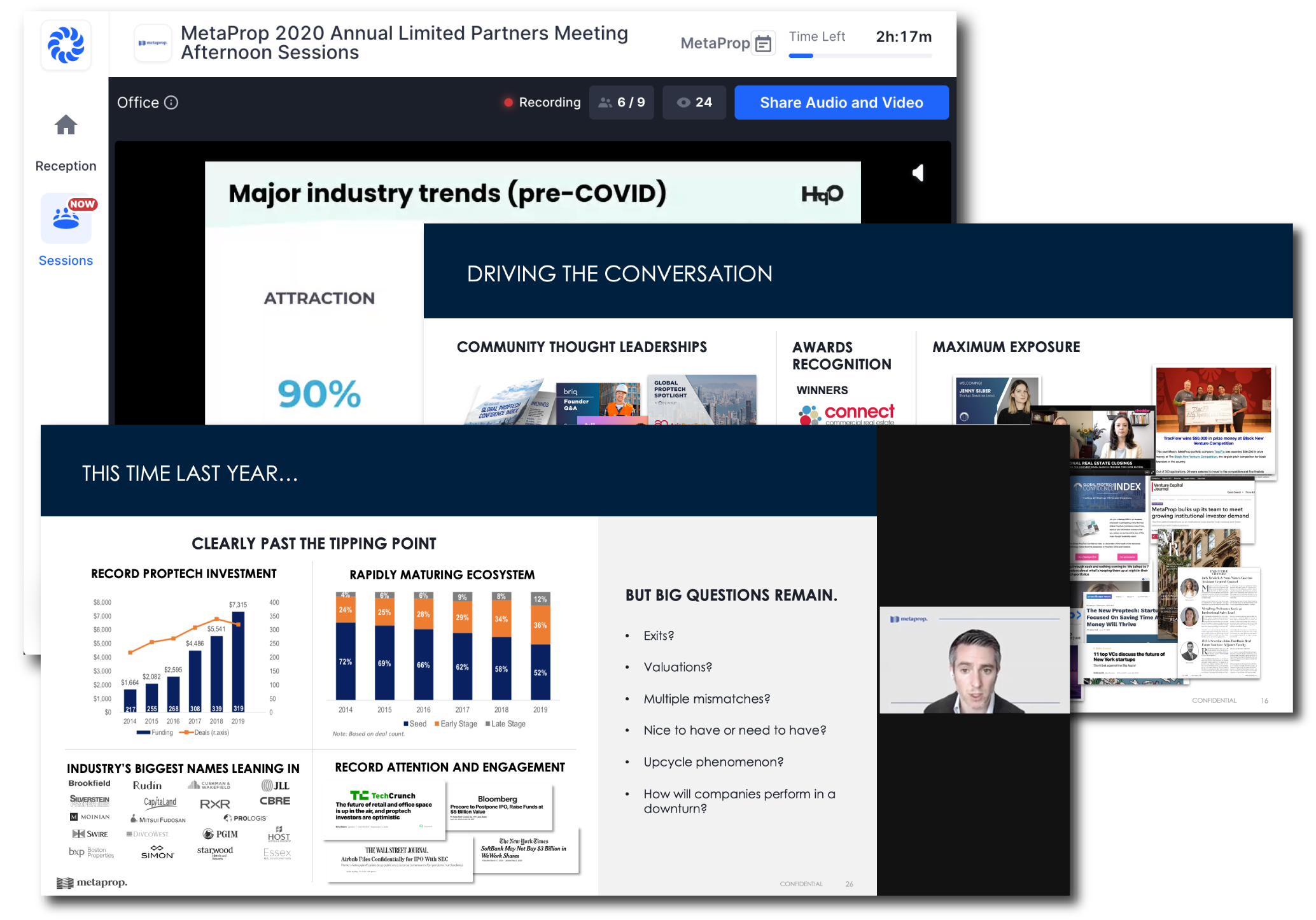 Fall is typically a special time of year for our team, working at full capacity on a full slate of investments, the MetaProp Accelerator @ Columbia University program, NYC Real Estate Tech Week and the annual Propel NYC by MIPIM in partnership with MetaProp. It's also the time of year we normally host senior leaders and key executives from our global investor group to join us here in NYC for a fun and educational few days of PropTech anchored by MetaProp's Annual Limited Partners Meeting. 
For the first time, we've been unable to host traditional live programming for the ecosystem and to physically bring our industry's smartest minds together for gatherings, large and small, at the Javits Center, PropTech Place, and around the five boroughs.
Alas, as many of us have learned, we must adapt to the COVID-19 circumstances and make the most of our current distanced situation. That's why I'm sharing how proud I am of the MetaProp team. Despite all of the logistical and technological challenges, we just wrapped up some "extra special" 2020 Annual Limited Partner Meeting activities.
BY THE NUMBERS
120+ global attendees
12 countries represented
8 exclusive innovation workshops 
10 startup deep dives with MetaProp portfolio founders
In our early planning sessions, we wanted to find ways to bring together our full firm (including our partnership, investment, innovation services, and platform teams), leaders from across our investor group, founders from our portfolio companies, and close friends from the global real estate, institutional investment and PropTech communities. Our initial plan was to deliver a robust, dynamic, and interactive program that included:
Real estate, tech, and PropTech market and trend analysis;
Investment thesis review and discussion;
Portfolio and pipeline highlights and reviews;
Firm updates, exciting announcements, and previews of soon-to-launch new initiatives;
Interactive workshops and sector deep dives; and
A forum for industry leaders to share experiences, perspectives and emerging best practices during an unprecedented period for the real estate industry.
However, given the circumstances, it seemed like quite an ambitious program and the lack of IRL interactions created additional layers of execution risk.
Alas, thanks to Zach, Zak, Maureen, Iurij and the rest of our professionals, we were able to virtually and flawlessly achieve our ambitious annual meeting goals by convening for two half-day sessions filled with market updates, fund performance reviews, startup presentations, networking, and education.
Emerson said, "This time, like all times, is a very good one, if we but know what to do with it." Accordingly, we shared how our investment business is making the most of the crisis. At the same time, we made sure to acknowledge hardships throughout the PropTech ecosystem while celebrating some tremendous growth and success stories. 
Moreover, as many of you know, we take pride in helping the real estate industry pioneer new ways to engage with the PropTech ecosystem. And, 2020 wasn't going to stop our team from breaking new ground! During the annual meetings, we were able to launch the inaugural cohort of the MetaProp Executive Fellowship Program.
During the Fellowship's afternoon sessions, investor group executives across 13 time zones participated in live, interactive PropTech sub-sector reviews on office, retail, multifamily, and construction including the latest product and company presentations from some of our portfolio's fastest-growing startups. We also held industry-specific venture capital workshops on Building an Innovation Ecosystem, Writing a Term Sheet, and Cogent Investment Memo led by MetaProp partners and group leaders. The virtual HopIn-hosted sessions were very well received and the interactive voice and text Q&A helped drive tremendous take-home value for the participants. In fact, the response has been so positive, that we're planning to hold regular partner Fellowship sessions in Spring and Fall 2021.
Hopefully, we'll be able to host our entire investor group together again in NYC in 2021. In the meantime, our team continues to break new ground and drive that special "only-in-MetaProp" value to our portfolios and investors. In the meantime, be on the lookout for MetaProp's End of Year PropTech Confidence Index, a rebrand and website launch and we look forward to seeing the broader community during the upcoming virtual  NYC Real Estate Tech Week on December 8-11, 2020.